Here we will be going over creating and adding existing eForms to your library as well as creating and adding questionnaires.
1. Creating a New eForm
To create a new eForm, begin by going to the 'Administration' tab from your Schedule Dashboard → select 'Forms/eForms' → select 'Manage eForms' → click on 'Build eForm'.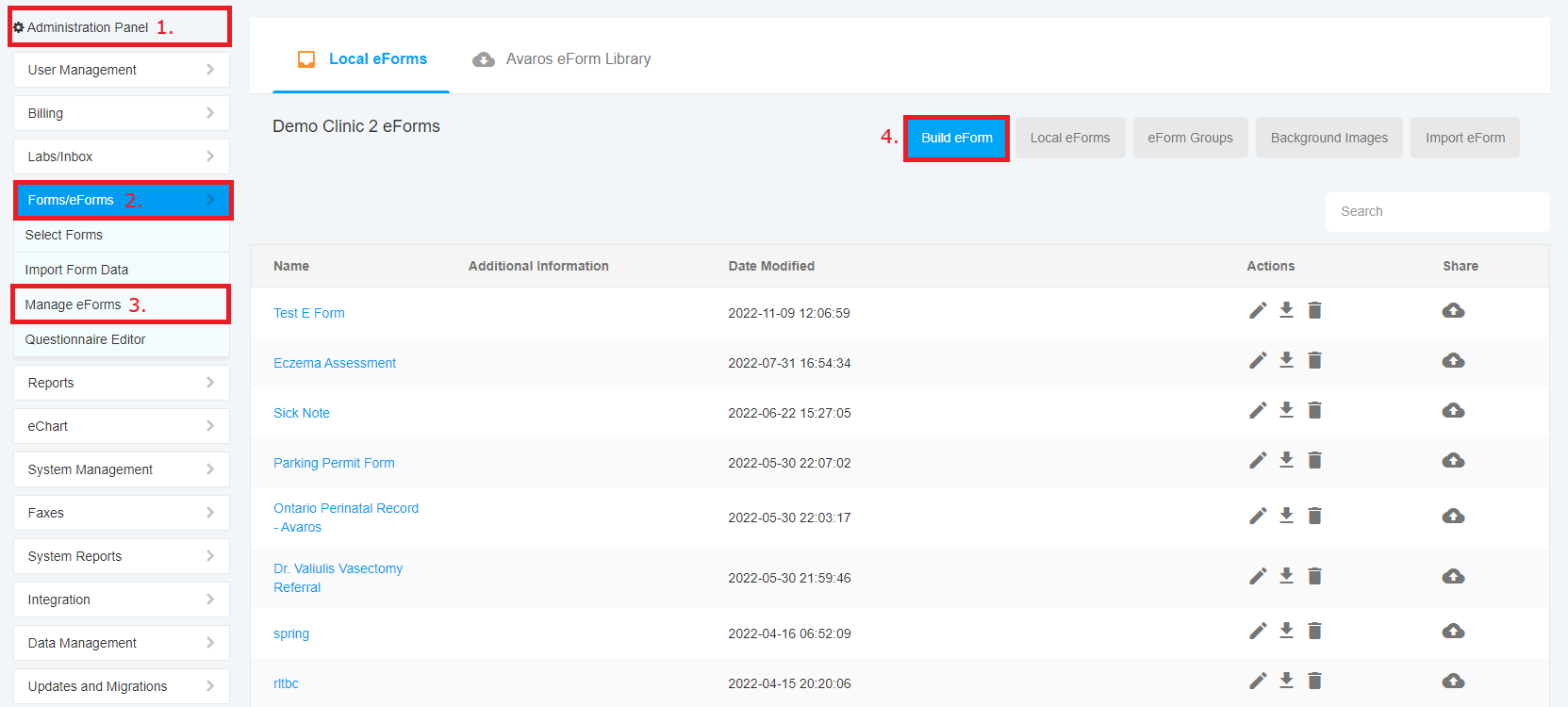 From here, give the eForm a name, select 'eForm' as the type and click 'NEXT'. This will open up a new editing window where the eForm can be generated.
Uploading a Background
Start by downloading a background of interest. Upload this background by clicking anywhere in the open white page to open an upload window or simply click and drag a background onto the page. The background can be either a PDF or a picture file (png, Jpeg).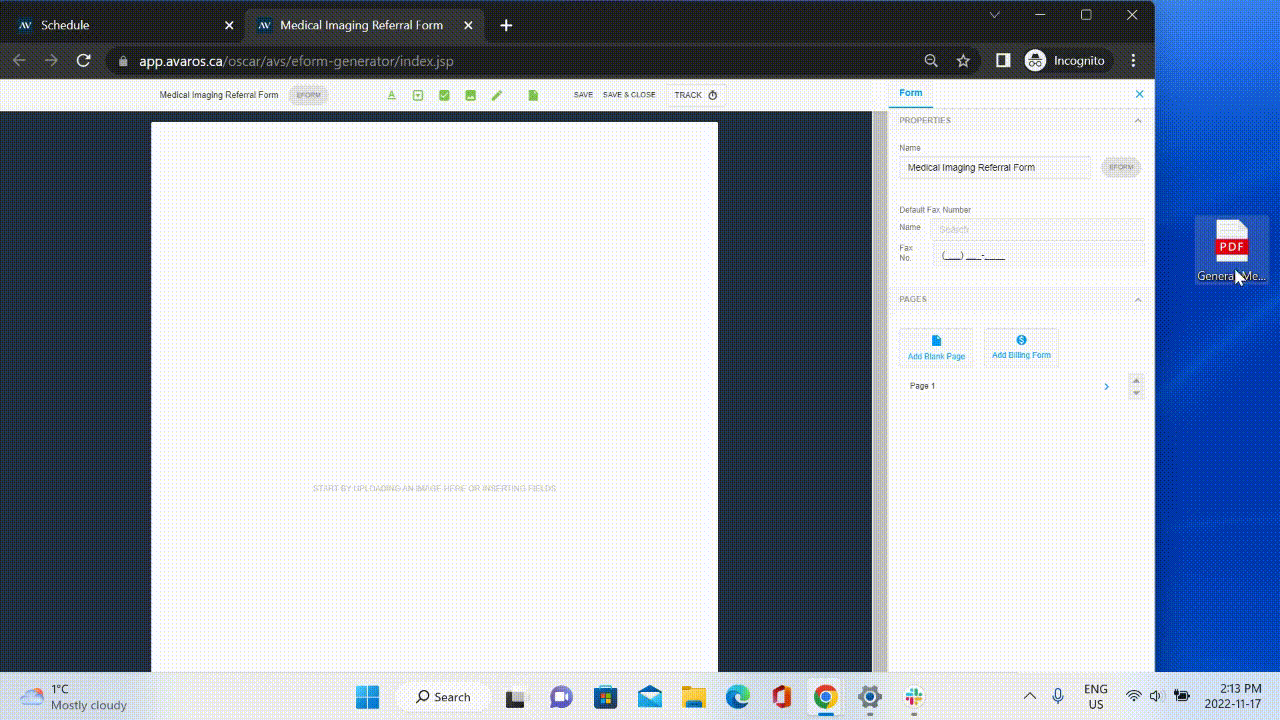 💡 Many institutions provide their backgrounds freely online for provides to download and use as a template for referrals.💡
Adding Text Fields to Your eForm
Once your background is set, you can start to add text boxes to all the fields requiring them. To do this, click on the 'A' icon, then move to the appropriate area of your form and click again to place the text field. Press 'esc' on your keyboard to exit text fields selector.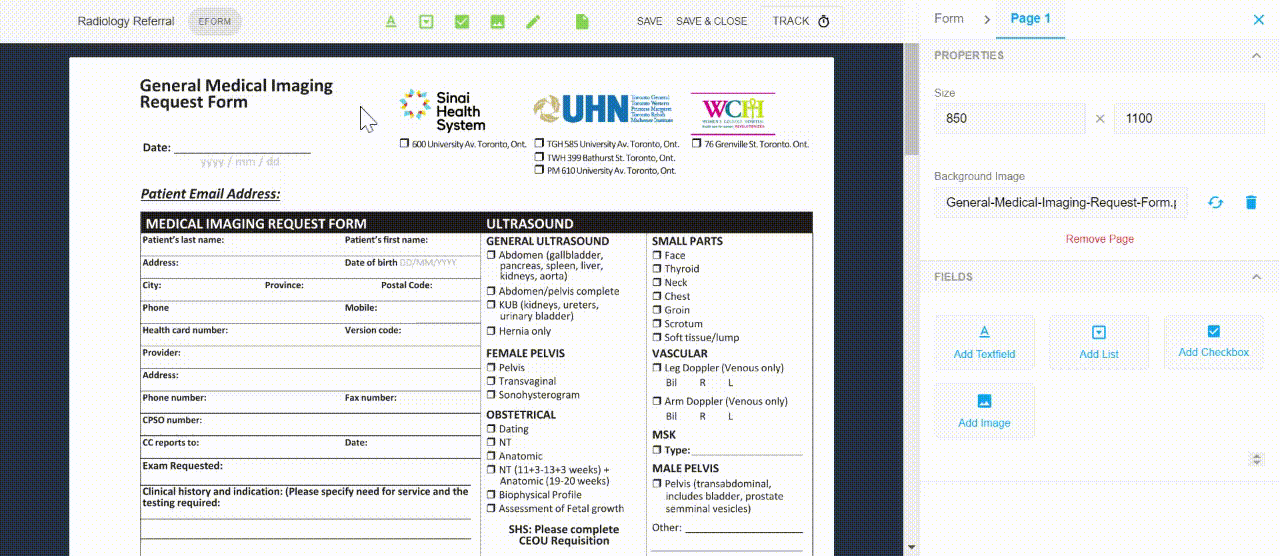 💡 You can add database tags to your text fields by selecting a field and searching up a key word in the 'Database Tag' search bar. There are tons to choose from! If no tag is added, then the text field will be blank and fillable when completing the eForm.💡
Adding Other Elements to Your eForm
Some other elements can be added to your eForm such as:
Checkboxes

Images

Signature
💡 An eSignature must first must be added by the provider to be used when eSigning in Avaros. Click Here to learn how to add an eSignature.💡
2. Adding Existing eForms to your Library
There are many existing eForms available to providers in Avaros. To check them out go to 'Administration' tab from your Schedule Dashboard → select 'Forms/eForms' → select 'Manage eForms'. 'Local eForms' should automatically open and you can scroll through the existing eForms.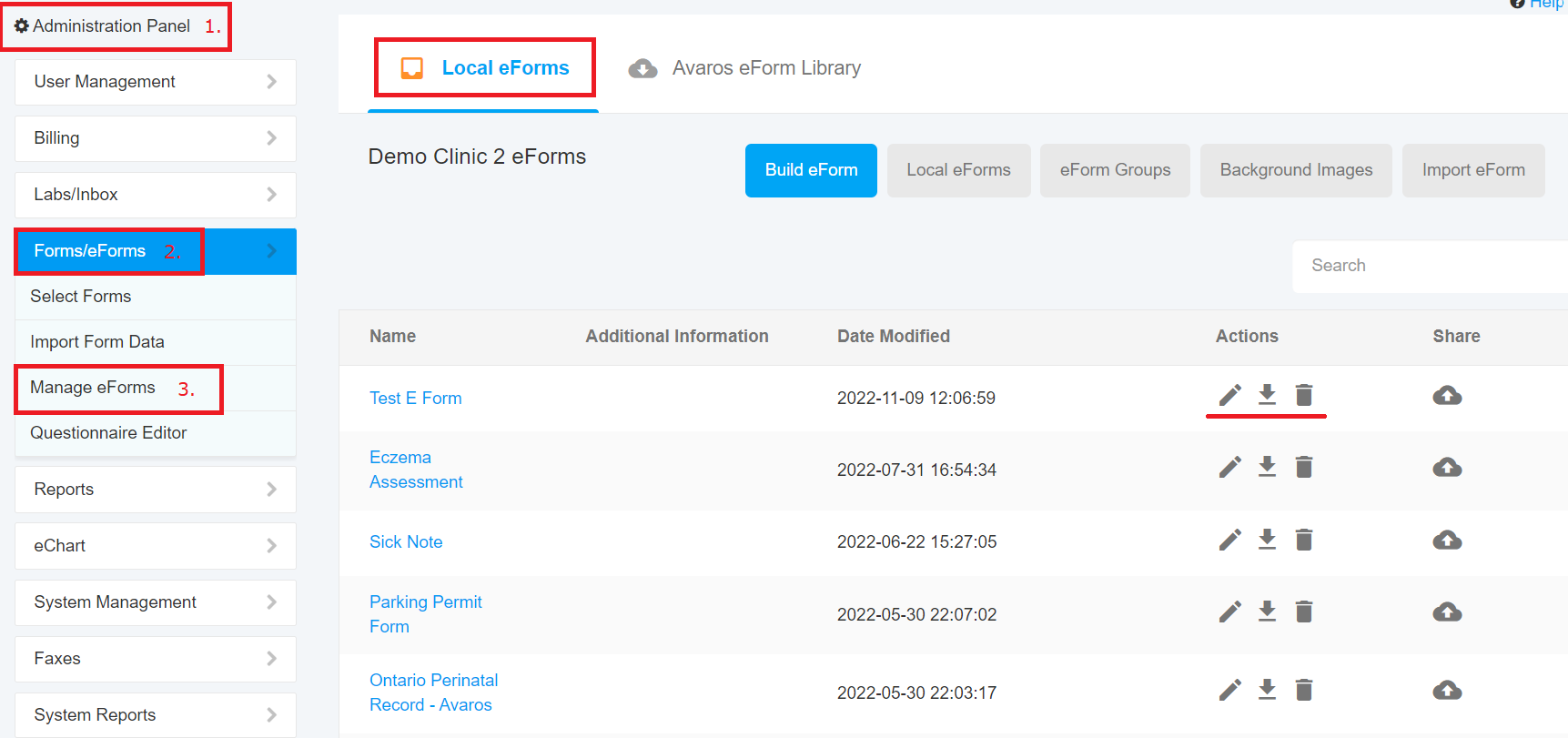 💡 You can make any edits or modifications to existing eForms by simply selecting the edit (pencil) icon.💡
3. Questionnaire Editor
Build your own predefined questionnaire for your patients. Here's how:
Go to the 'Administration' → select 'Forms/eForms' → then click 'Questionnaire Editor'. Here you will find all your current questionnaires which you can search for, sort by date or name or filter. Click on 'Create Questionnaire' to build a new one.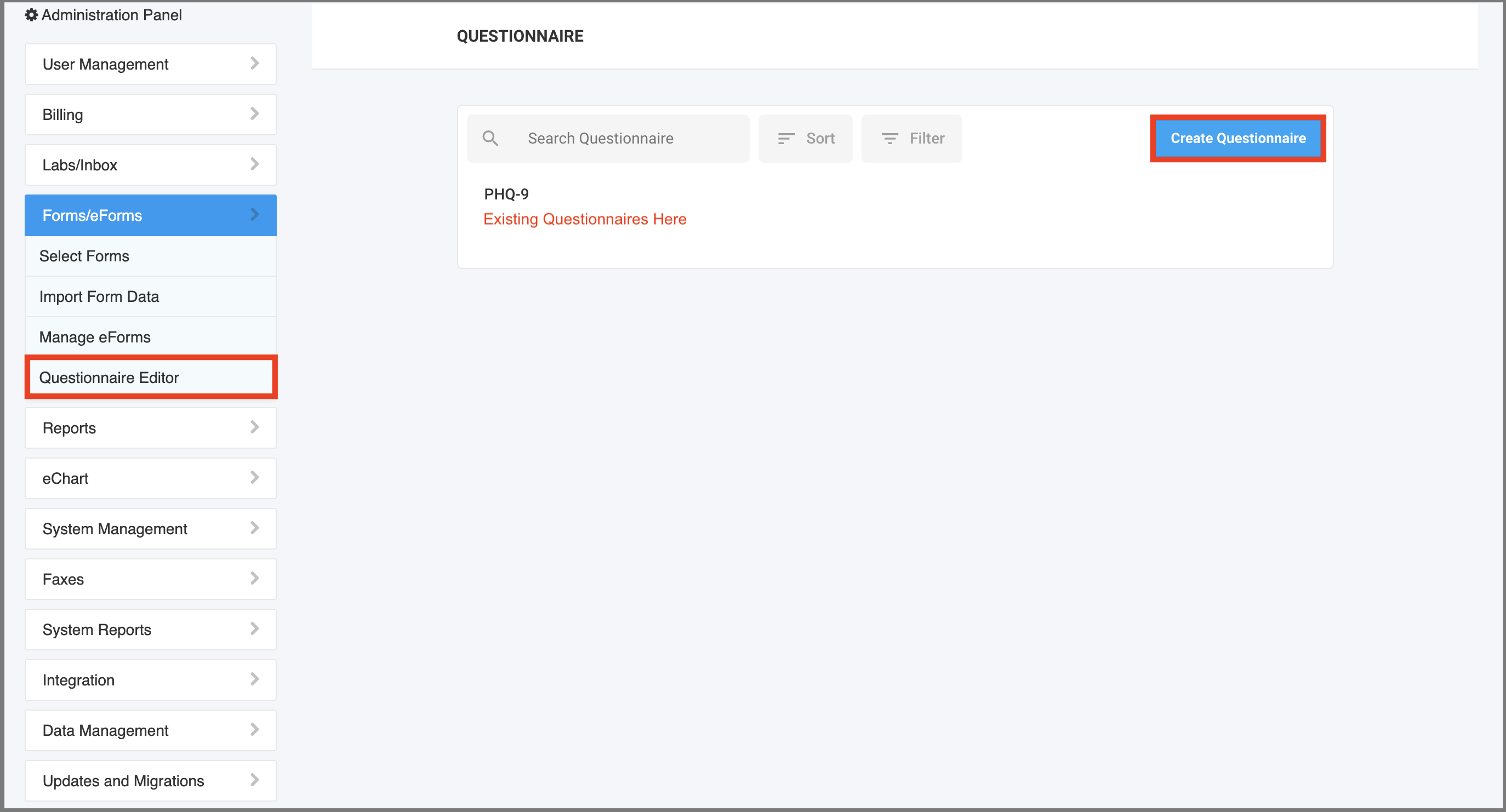 Give it a name and start adding your questions. Different question types can be found under 'Insert' in the right panel of the display.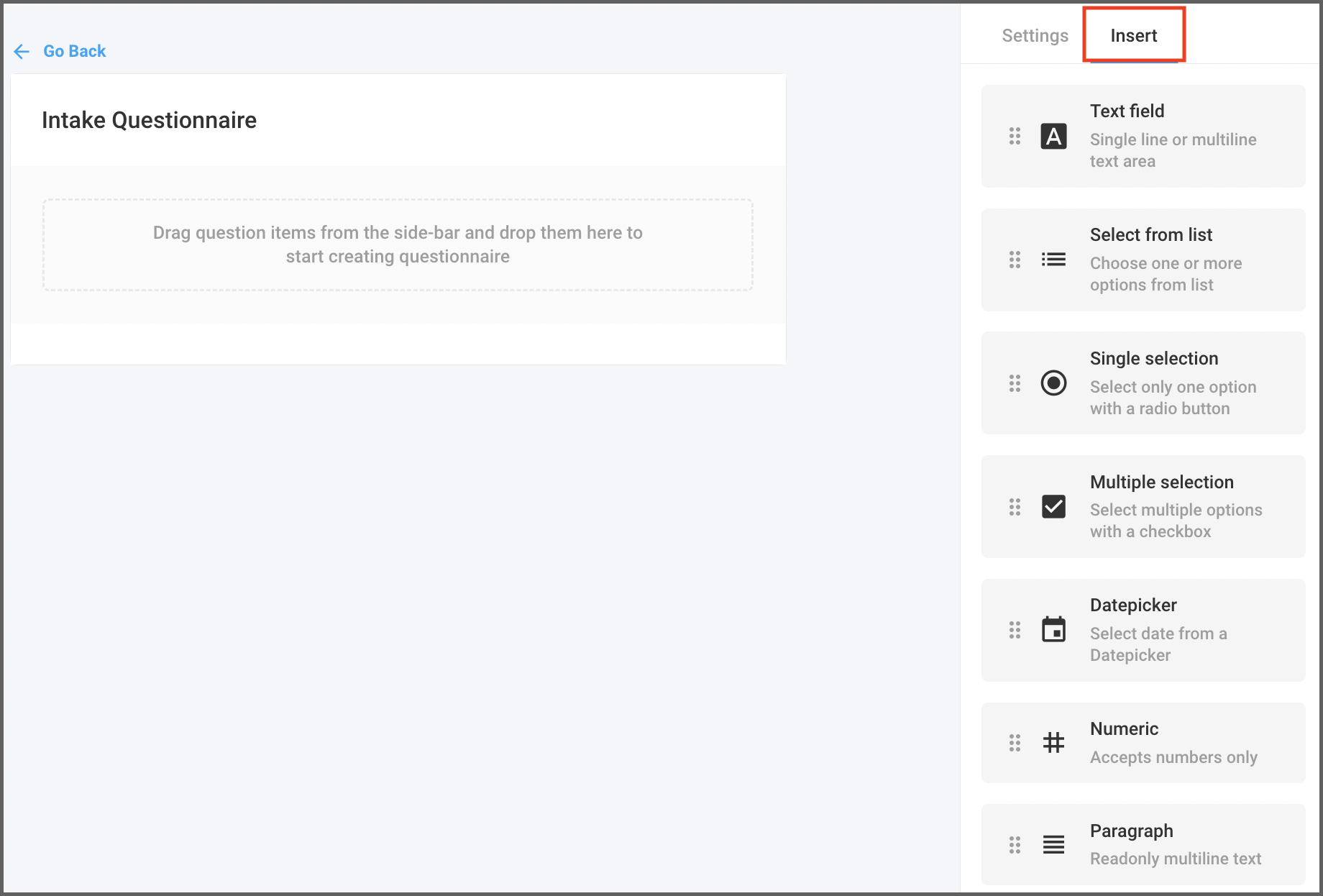 You can add a question type by:
Dragging and dropping it into the questionnaire;
Clicking within the drop section to add a text question and changing the question type in the drop-down menu in the right panel.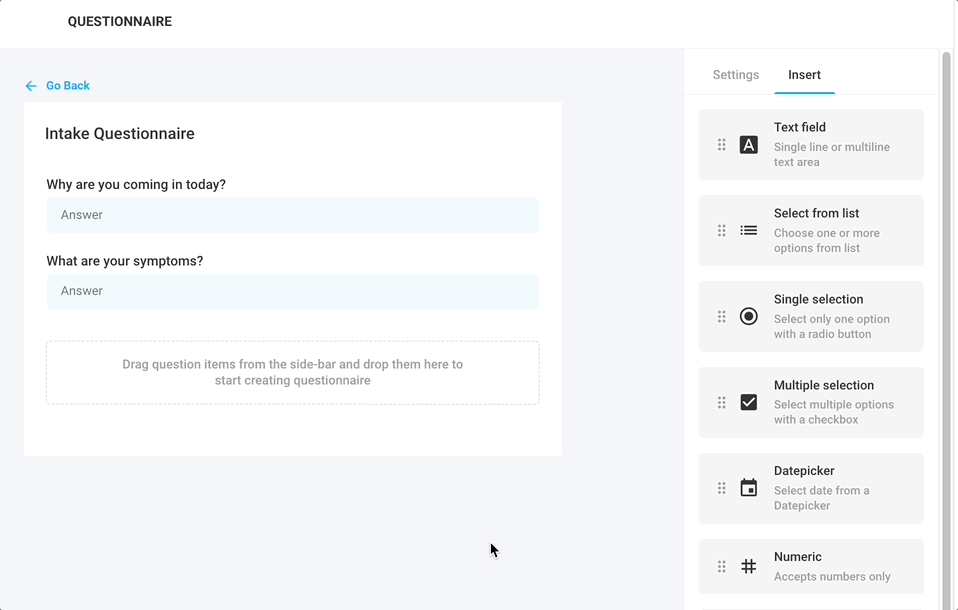 💡For multiple and single-selection question types, you have the ability to assign a score to each answer and create exit rules if the score of the entire questionnaire is greater than or less than a set amount. This will limit online booking for patients who do not meet the scoring criteria of the questionnaire.💡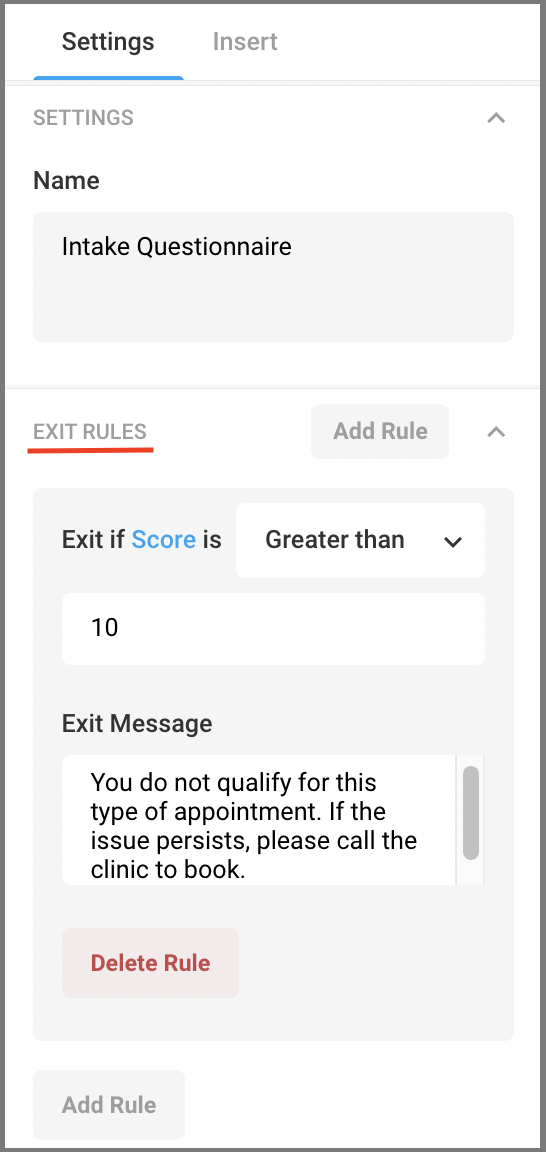 When you're finished creating your questionnaire, select 'Create Questionnaire' to save and add it to your questionnaire library.
Related Articles
Did we miss something? Not to worry! Just email our support team at support@avaros.ca✌️