In this section we'll cover the three key steps to export patient records: (1) Selecting a patient or patient set to export, (2) Exporting the patient records, and (3) securely encrypting the exported patient records so it can be sent to another provider.
1. Selecting a patient or patient set to export
When exporting patient records, you can either export a single patient record, or select a defined patient set to export.
a) Exporting a single patient record
To export a single patient record, all you need to navigate to the patient's master record, and click the "Export this Demographic" button. The resulting export folder will automatically save on your computer.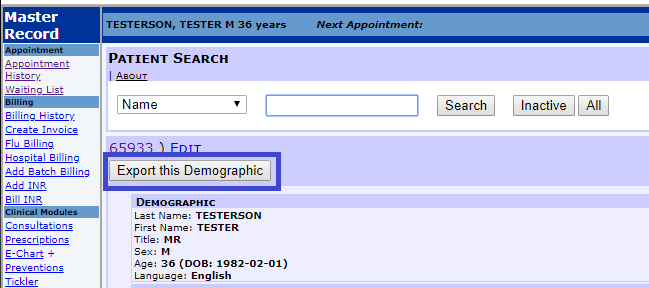 b) Exporting a defined patient set
To export a defined set of patients, a new patient set can be created using Avaros' Search module by selecting the appropriate search criteria and clicking "Save Patient Set".

Custom Patient sets can then be exported in the administration > Data Management > Demographic Export view.
Alternatively, pre-set patient sets grouping patients by Most Responsible Provider can also be selected for export.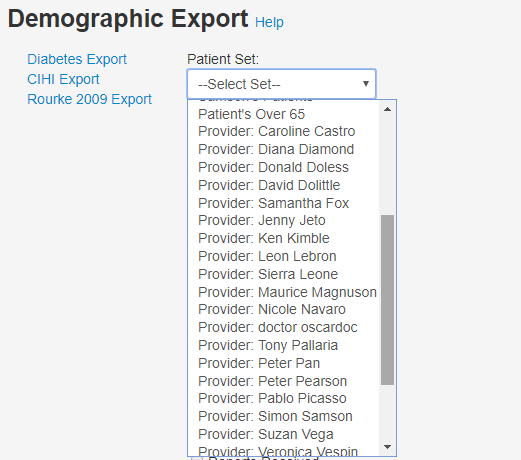 2. Exporting Patient Records
Once a patient set to export has been selected, you can select which individual elements of the patients' chart you'd like to export, or "Select All", if you'd like to export the entire chart.
Clicking the "Export" button will result in the download of a zipped folder of the relevant patient records to your computer.
*Please note, this zipped folder is not securely encrypted, and should NOT be sent over the internet, or loaded onto any media for transport until it has been encrypted (see 3, below).
3. Securely Encrypting Patient Records for Transport
There are a number of tools available to securely encrypt files and folders before transport. If you have one you're already familiar with, feel free to use it for this step.
If not, we strongly recommend the encryption features built-in to 7-Zip, a free zip utility you can download here. (If you are using a Mac OS, you can accomplish the same thing using Apple's Archiver app, which you can download here).
After downloading and installing 7-Zip, right-click on the downloaded patient records folder, and select "7-Zip" > "Add to archive..."

In the archive window, select a strong, random password with which to encrypted the patient records, and make sure a strong encryption algorithm, like AES-256 is selected.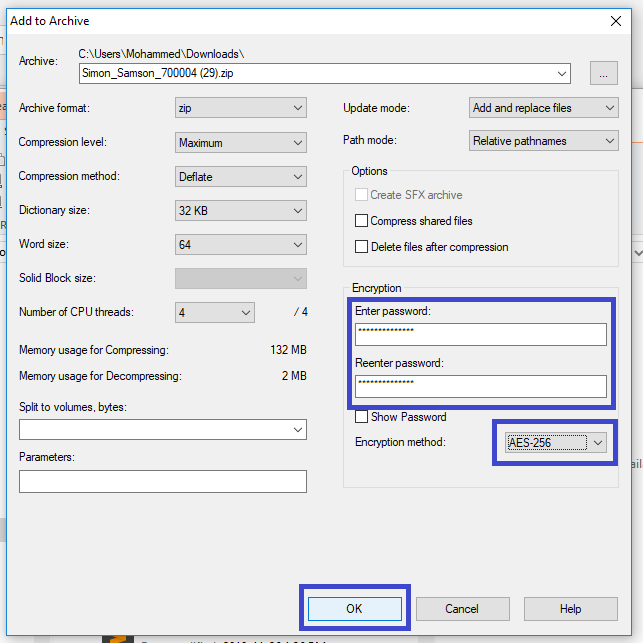 The newly encrypted patient records are now only accessible to recipients with whom you share the encryption password.
To share the patient records, all that is left is to load the encrypted folder onto a thumb drive, or CD and send it to the intended recipients.
You should call ahead to inform the recipients of the encryption password you used to encrypt the files.
*Please do not place the encryption password in the package with the patient records. Doing so would allow any unauthorised user who incorrectly received the package to view the records. Always make sure to deliver the encrypted patient records and the decryption password using different media (for example, mail a thumb drive of the patient records, and call ahead to share the encryption password with the intended recipients).