What is Go Secure?
Go Secure is the official system used by the Ministry of Health to help Physicians access and manage their billing claim permissions.
What is MCEDT?
Medical Claims Electronic Data Transfer (MCEDT) is the system that allows billing apps (like Avaros) to upload and download your billing claims. Access to MCEDT is managed through the Go Secure portal by a physician.
💡If you are a clinic manager and not a provider, you must also create a Go Secure account if you would like to submit multiple providers claims through a single Go Secure account in Avaros.💡
How to Create a Go Secure Account
1. Go to the Go Secure website and select "Don't have a GO Secure account? Register Now"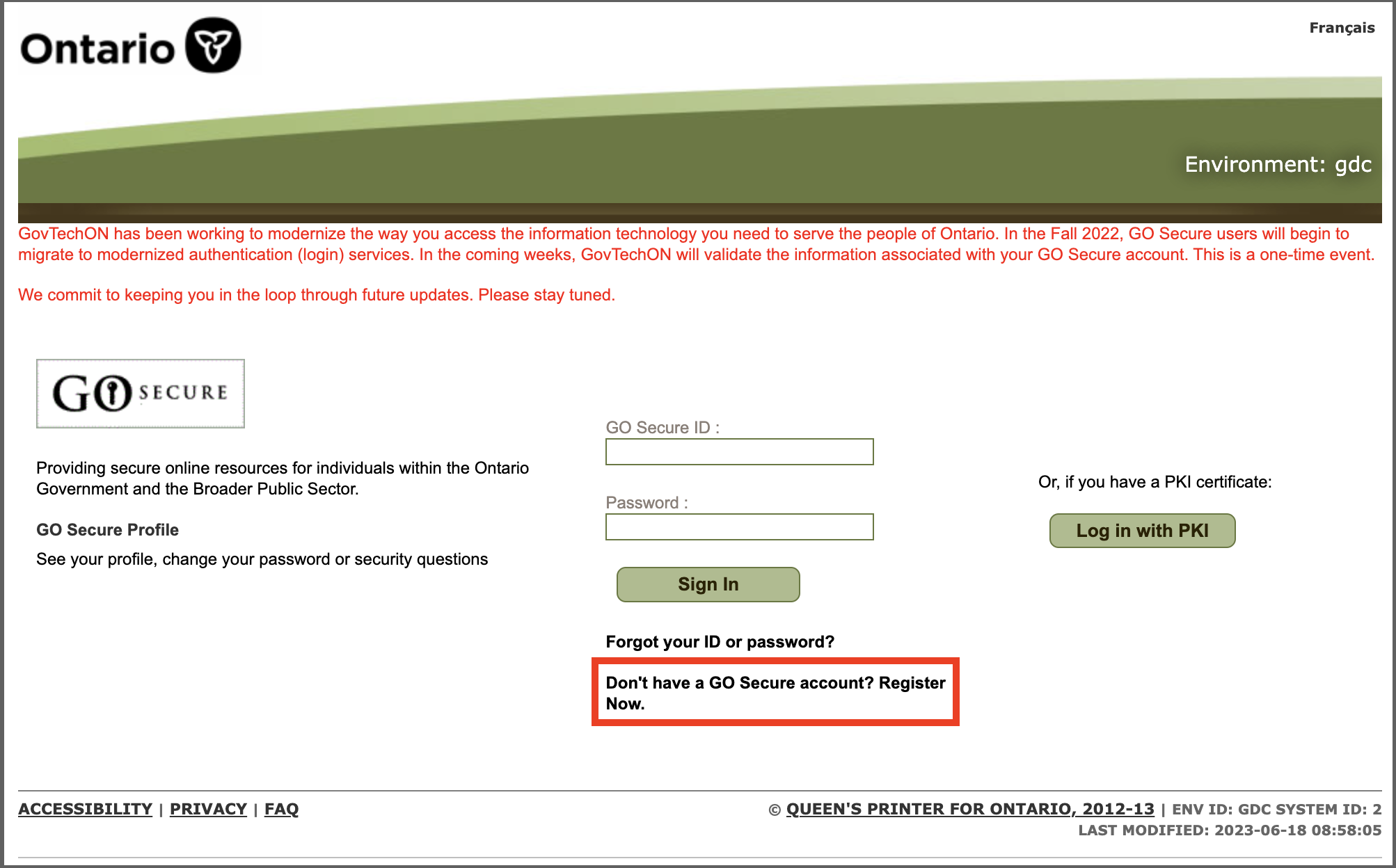 2. Enter your personal details
3. Create your password and security questions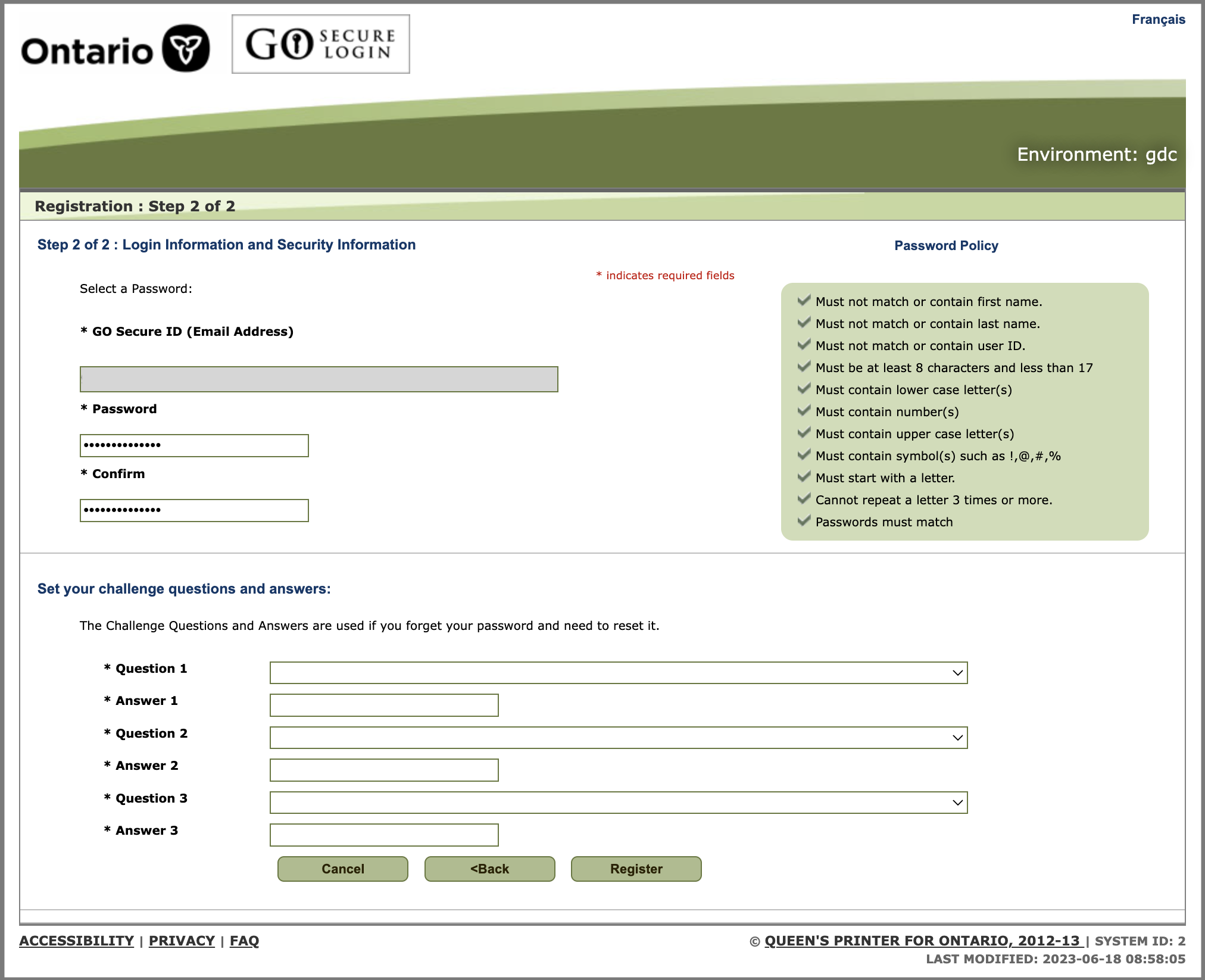 4. Accept the terms and conditions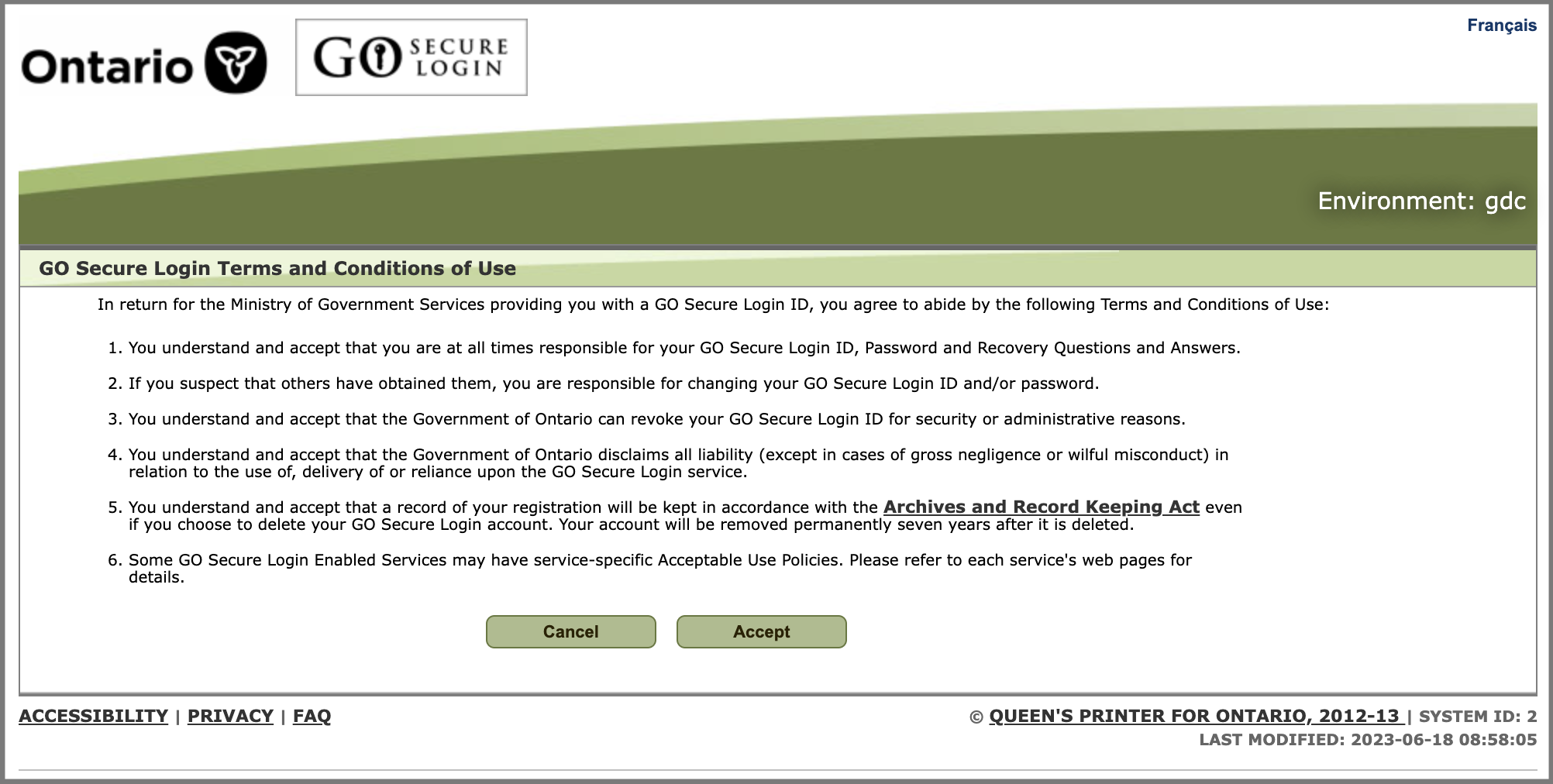 5. Go to your email, follow the link, and log in to your newly created account to validate it.
💡Once you have completed your setup for Go Secure, the next step for providers would be to enroll in MCEDT (view instructions below)💡
Do I already have a Go Secure account?
If you already have an a Go Secure account, but cannot remember your username or password, you can select the "Forgot your ID or Password?" link on the Go Secure login page.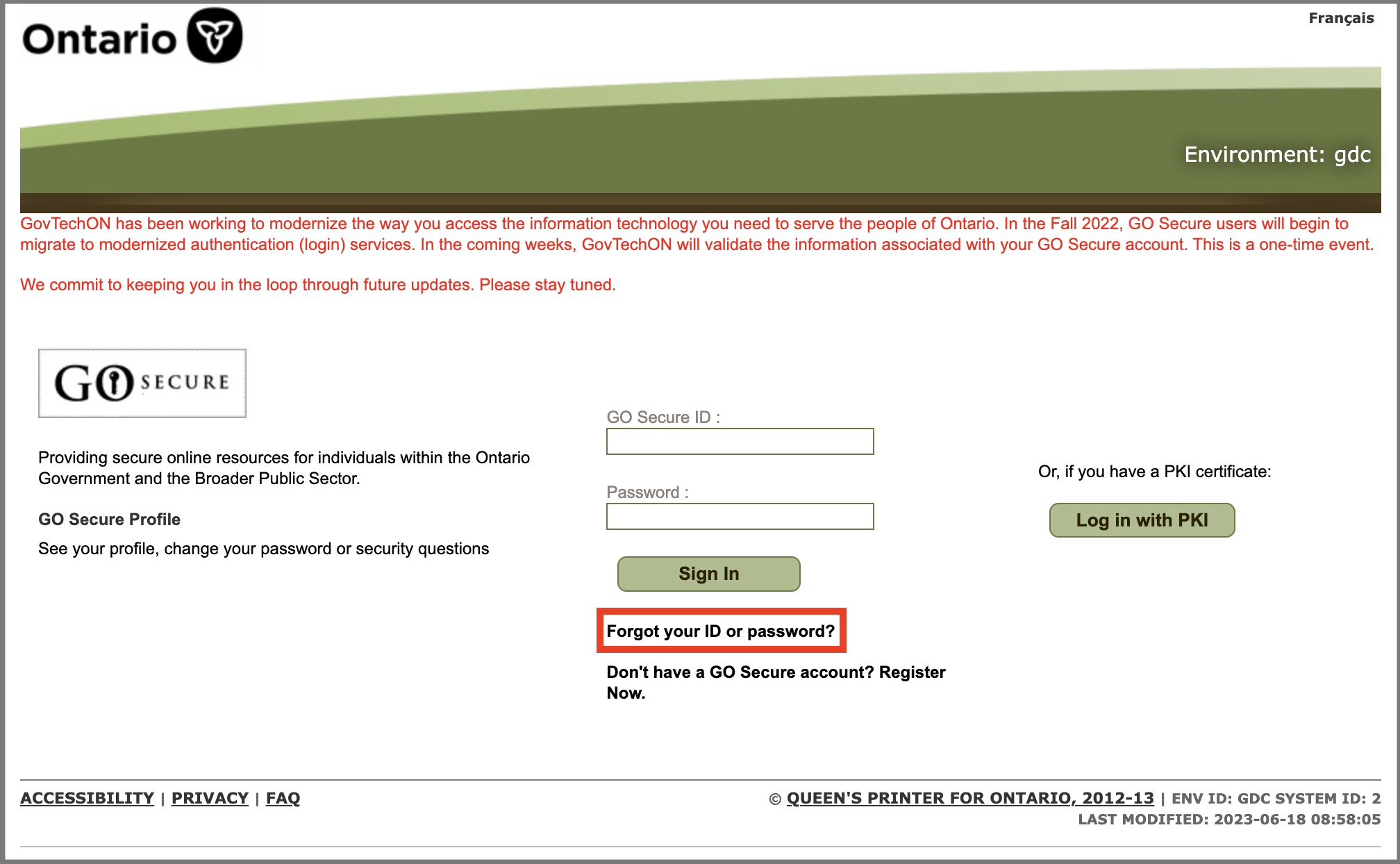 If you already have an existing account but forgot the ID and password, you would have to call the Ministry Billing desk at 1-800-262-6524. They can let you know which email is attached to your existing Go Secure account and then you can use that email to reset your account password.
Enroll in MCEDT
1. Once you have validated your email by following the link provided in the confirmation email, and logged back into Go Secure, you will now have the option to continue to the Government of Ontario Services page. Click the 'here' button to continue.

2. Keep the default 'New User' option on the Identification Information page and click 'Continue'.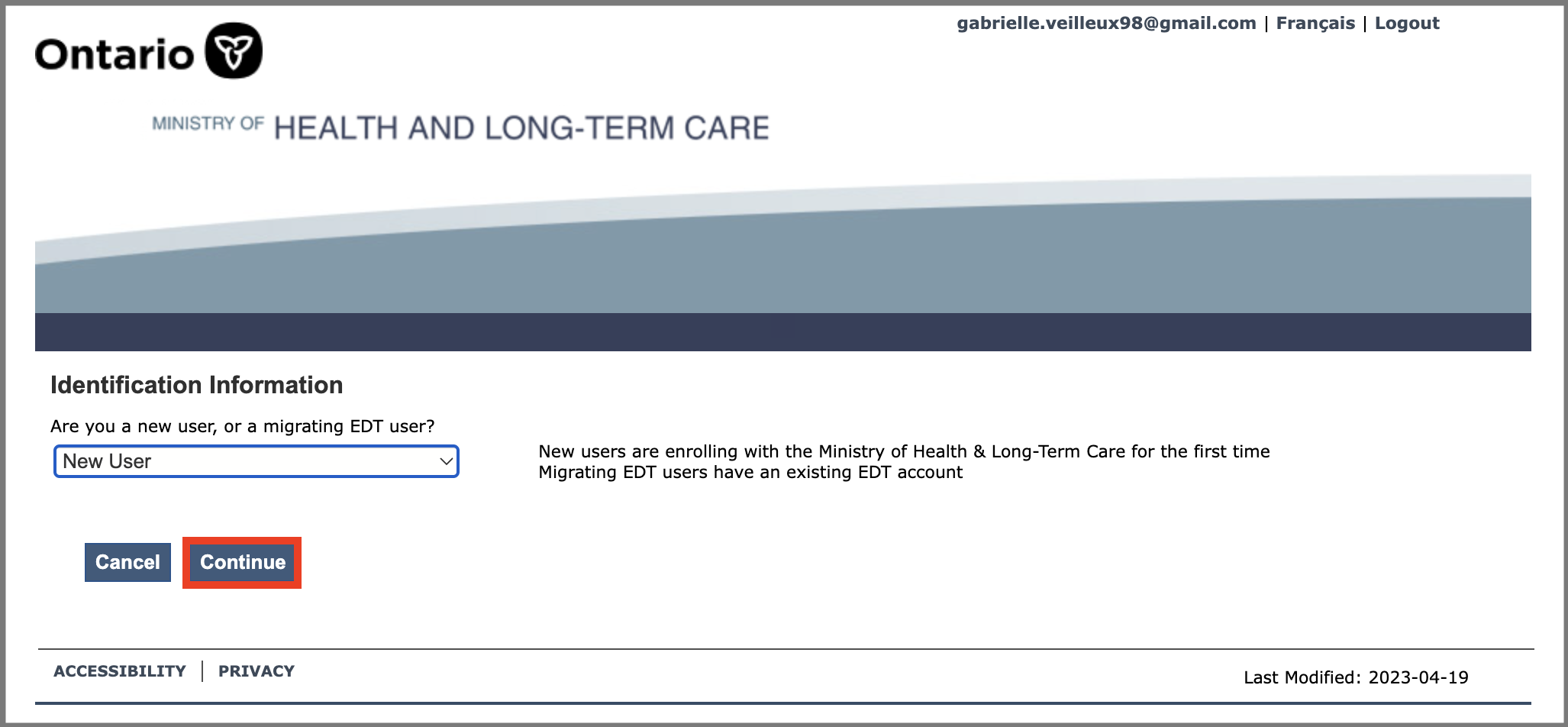 3. On the next page, you will be asked to enter two Unique ID #'s. Enter your Unique ID #'s that were emailed to you by the Ministry in the appropriate boxes and select 'Continue'.
💡The Unique ID numbers will be sent to you in a separate email after you created your Go Secure account. Note, this email may take up to 24 hours to arrive. If you did not receive an email with your Unique ID #'s, please reach out to the Ministry Billing desk at 1-800-262-6524 to have them re-sent.💡
4. Click the 'Accept' button to accept the terms of use for the system.
You are now enrolled in MCEDT!
Designate your Billing Service
In order for your clinic billing to be viewed and submitted from a single account in Avaros, all providers must designate their own Go Secure accounts to a single Go Secure account used by your Clinic. This may be the account of the head physician or a clinic manager.
There are 2 steps in designating your billing:
Doctors must

add the designee

Doctors must

authorize the designee to submit billing claims
Adding a Designee
The Doctor:
1. Doctors must log into their Go Secure account and click on Designee Maintenance (Add, Remove, Update)

2. Click the 'Add Designees' button
3. Add the clinic Go Secure account details - the clinic's main account name and email address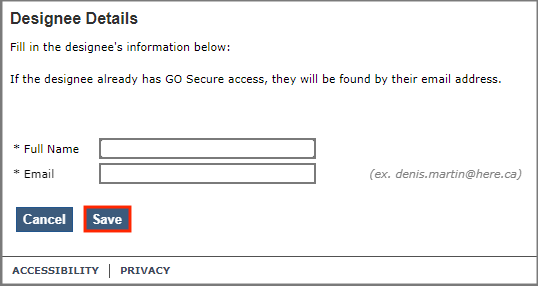 4. Select 'Save'
5. Confirm the designee you have chosen
6. A confirmation email will be sent to the designee, which they will need to accept.
The Designee (Clinic):
1. Sign into the email used for the clinic Go Secure account
2. You will have received an email from Go Secure. Click the link and sign in to your clinic's Go Secure account
3. Accept the designation
Authorize the Designee (Clinic) to Submit Billing Claims on your behalf
1. You may need to log out and back in once the designee has accepted your request. Once you log back into your Go Secure account, select 'Designee Maintenance (Add, Remove, Update)'

2. There will now be a table with a list of Designated Accounts. Click on the email address of your newly added designee

3. Select 'MCEDT Service (Upload/Download)'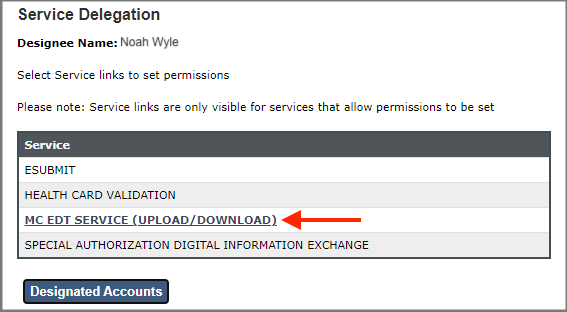 4. Click on the 'Select All' button, then 'Save' at the bottom of the page. MAKE SURE TO CLICK 'SELECT ALL' EVEN IF THE BOXES ARE ALL CHECKED OFF. IF YOU DO NOT CLICK THIS BUTTON, THE DESIGNEE WILL NOT GET AUTHORIZATION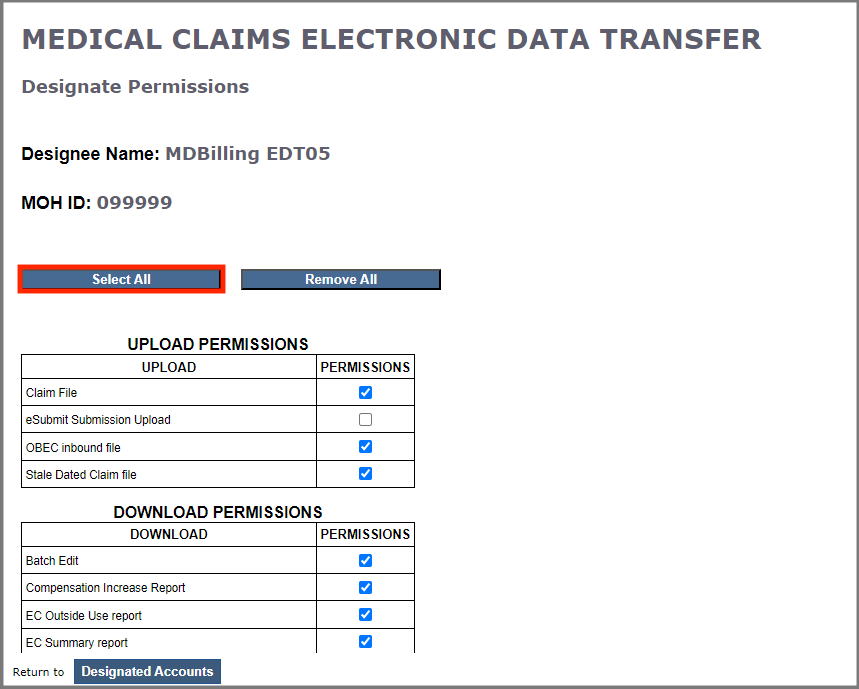 Enter your Go Secure Credentials in Avaros
Once you have finished setting up your clinic's Go Secure account following the steps above, in Avaros go to 'Administration' → 'Billing' → 'Manage Go Secure' → enter the clinic's Go Secure credentials, the main account holder and the linked provider accounts. Select 'Update' when finished.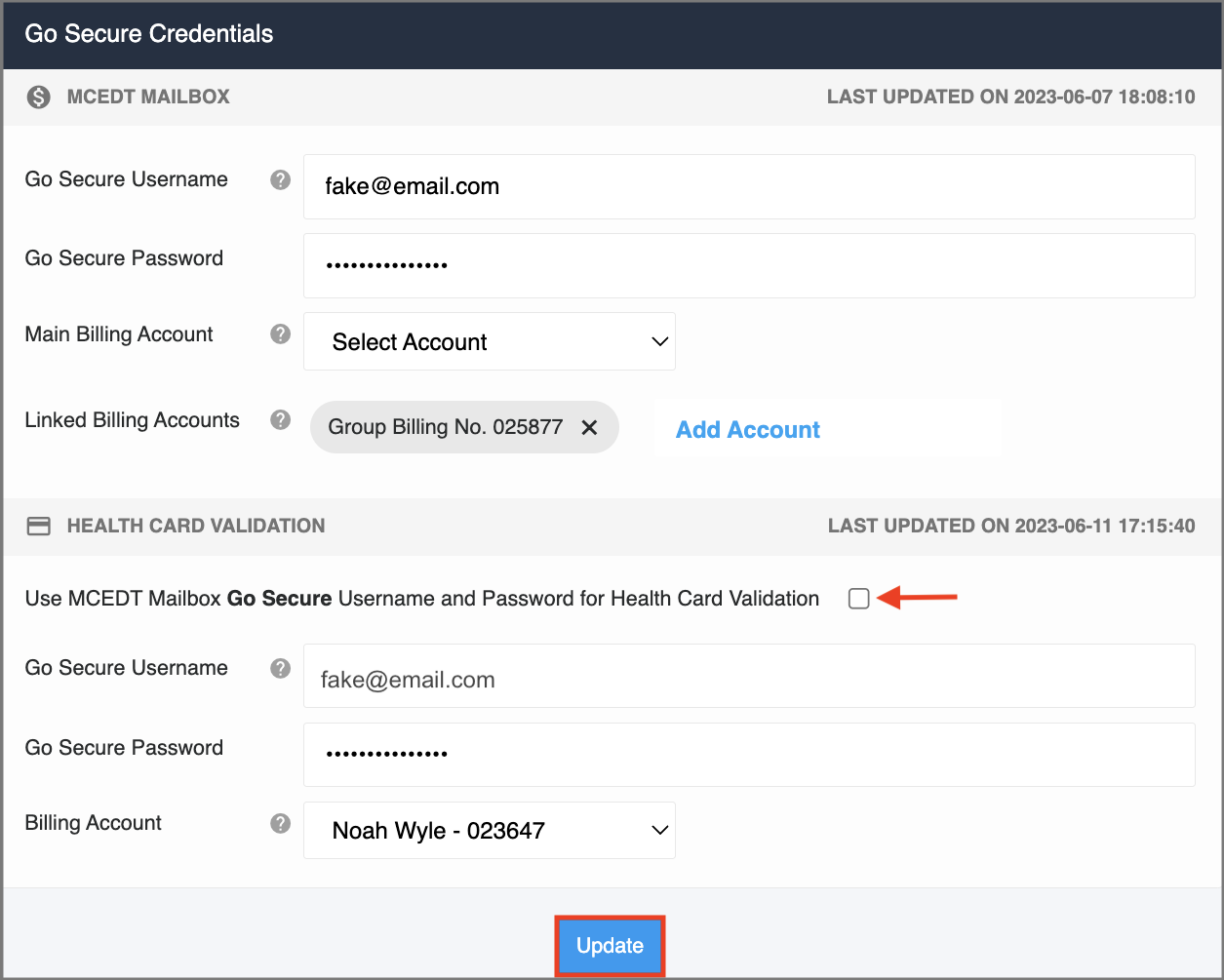 Go Secure and Group Billing vs. Individual Billing
A group billing number can also be used to sign up for a Go Secure account. Group billing can be useful in cases where there are multiple providers practicing at a clinic but also practicing at other locations. This is usually the case for walk-in clinics. It would be useful because:
Go Secure will send reports (batch edits, error reports etc.) only attached to the clinic's single location, not ones from the other locations the providers practice at. In individual billing, the received reports will be from all locations the individual providers practice at.
You will receive reports for your providers altogether in a single file. In individual billing, reports would receive files separated by the provider.
A group billing number is attached to a single bank account. For individual billing, each registered provider will be linked to their own bank account.
It would be up to the clinic to choose which billing method they would prefer. If you would like to sign up for a group billing number, you can complete the form from the MOH site linked below.
OHIP Group Registration for Health Care Professionals
Related Articles
Why does it say "Failed" when I use my MCEDT Mailbox?
Billing Submission, Error Correction and Reconciliation
Did we miss something? Not to worry! Just email our support team at support@avaros.ca✌️