Messenger helps make your clinic's internal communication easier. Send messages and link patients to other clinic staff, using our internal messaging system.
Setting up Messenger
In order to receive messages, users need to enable Messenger for their account. To do this, go to 'Administration' → 'System Management' → 'Messenger Group Admin' → check the boxes for those that wish to use messenger → Select 'Update group members' when finished.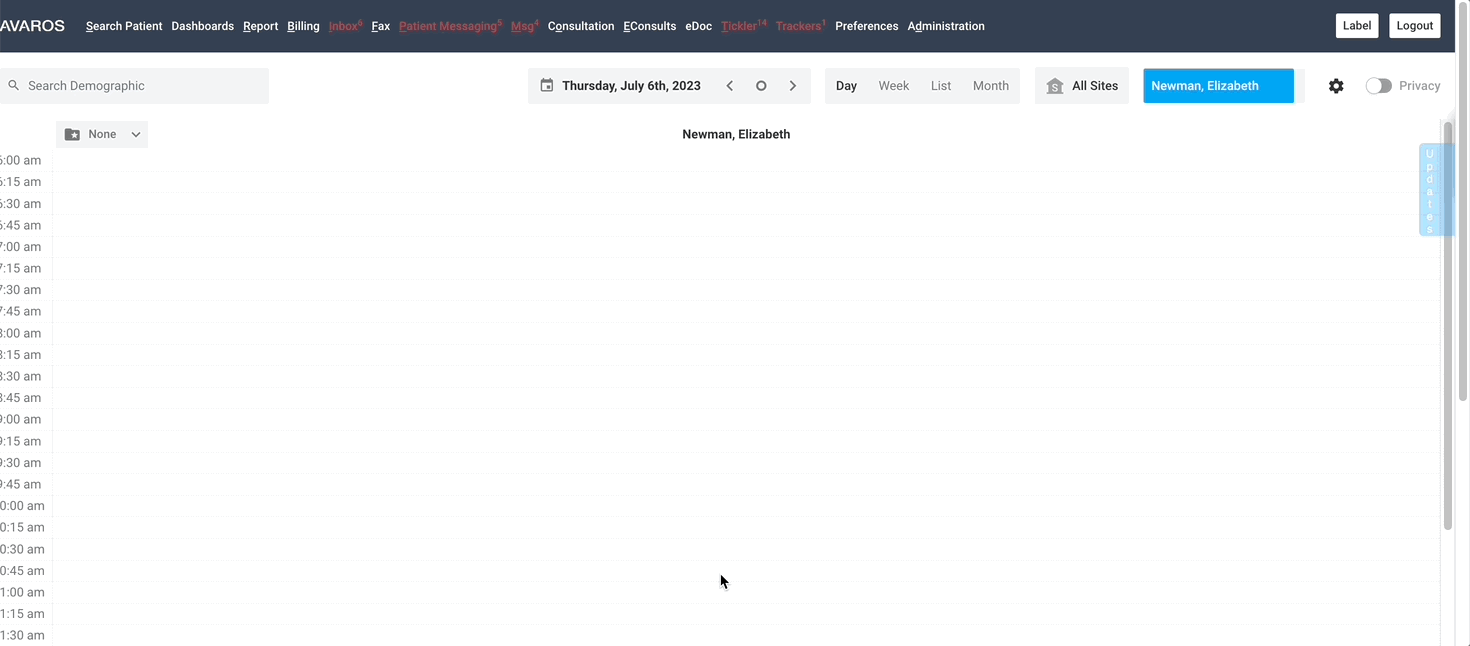 💡The Messenger system allows you to organize users in groups and turn off the messenger option for users that are not meant to receive messages.💡
Where to Find Messenger
There are three places from which you can send a message:
1. In the Schedule Dashboard Menu → click on 'Msg' → select 'Compose Message';

2. From a patient's eChart → Scroll down to the 'MESSENGER' tile on the right side of the page and click the '+' to write a new message;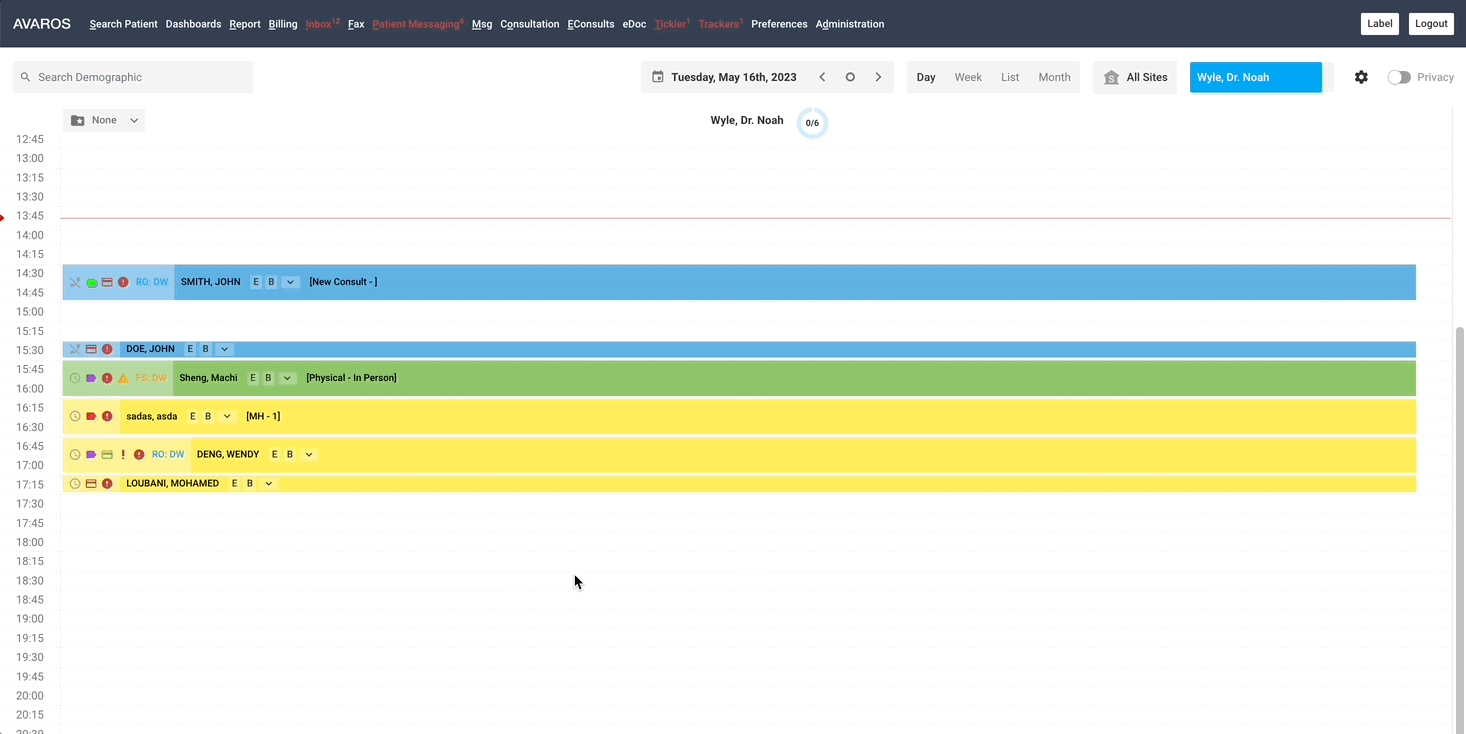 3. From a patient's 'Master Record' → Scroll down and click on 'Send a Message' on the right side of the page.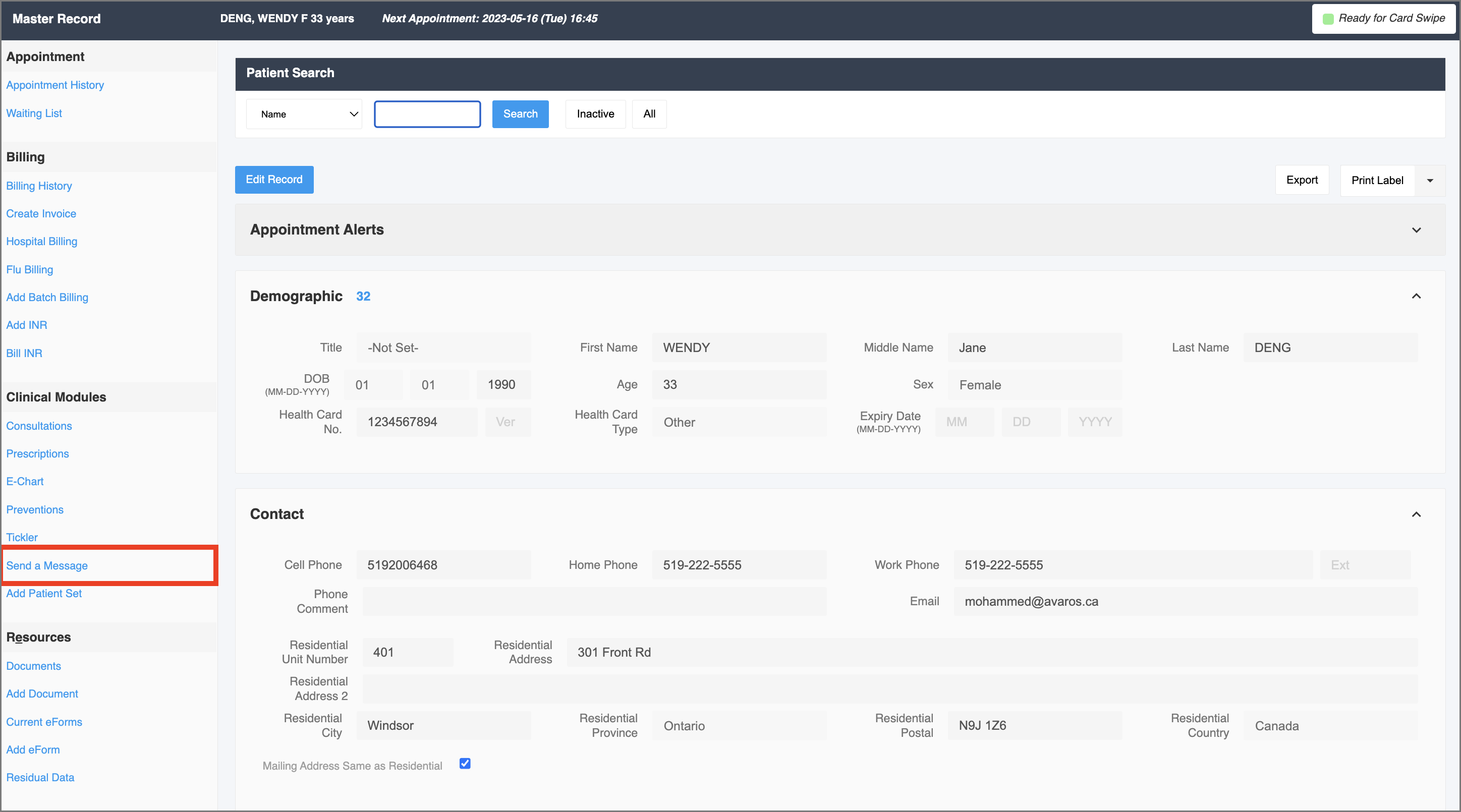 Compose a New Message
Open up Messenger through any one of the three methods mentioned above
Click the checkbox beside a 'Provider' name on the left of the message compose window;
Write a 'Subject';
Select whether or not the message is marked with an 'Urgent' status
Write your message;
You can choose to link your message to a patient demographic by selecting 'Link a Demographic', searching the patient and selecting their demographic number to link;
Hit 'Send Message' when you are ready;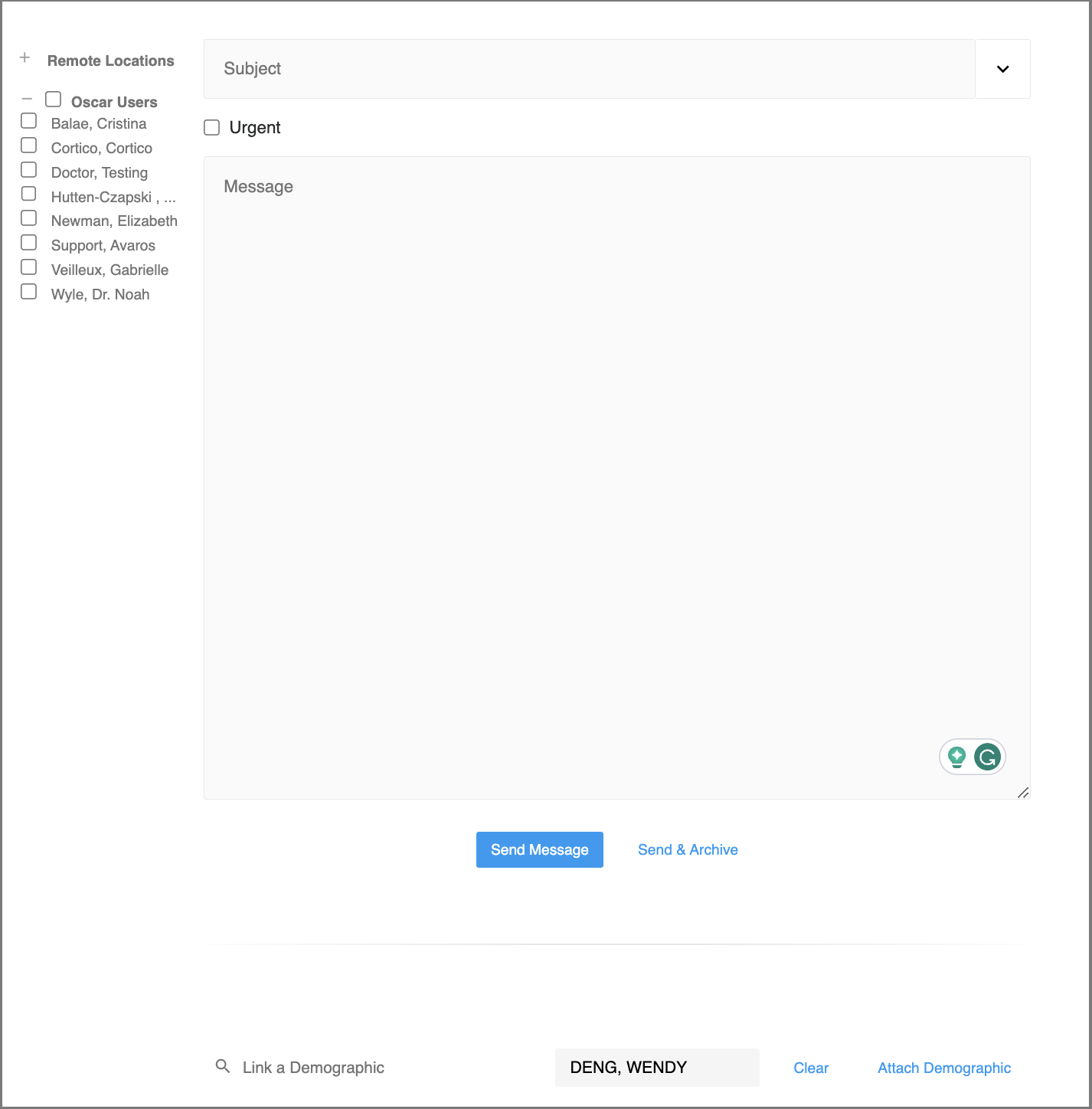 💡 If there are no subject templates, you can create one by clicking 'Manage Message Templates'. Give it a Name, Subject, add a Recipient and personalize your Message. Click 'Create' when you are ready.💡
Messenger Inbox, Outbox and Archived
When you open Messenger from your schedule dashboard, you have access to:
Inbox: See all the messages you have received from other clinic staff;
Outbox: See all the messages sent by you to others;
Archived: The messages that you've deleted.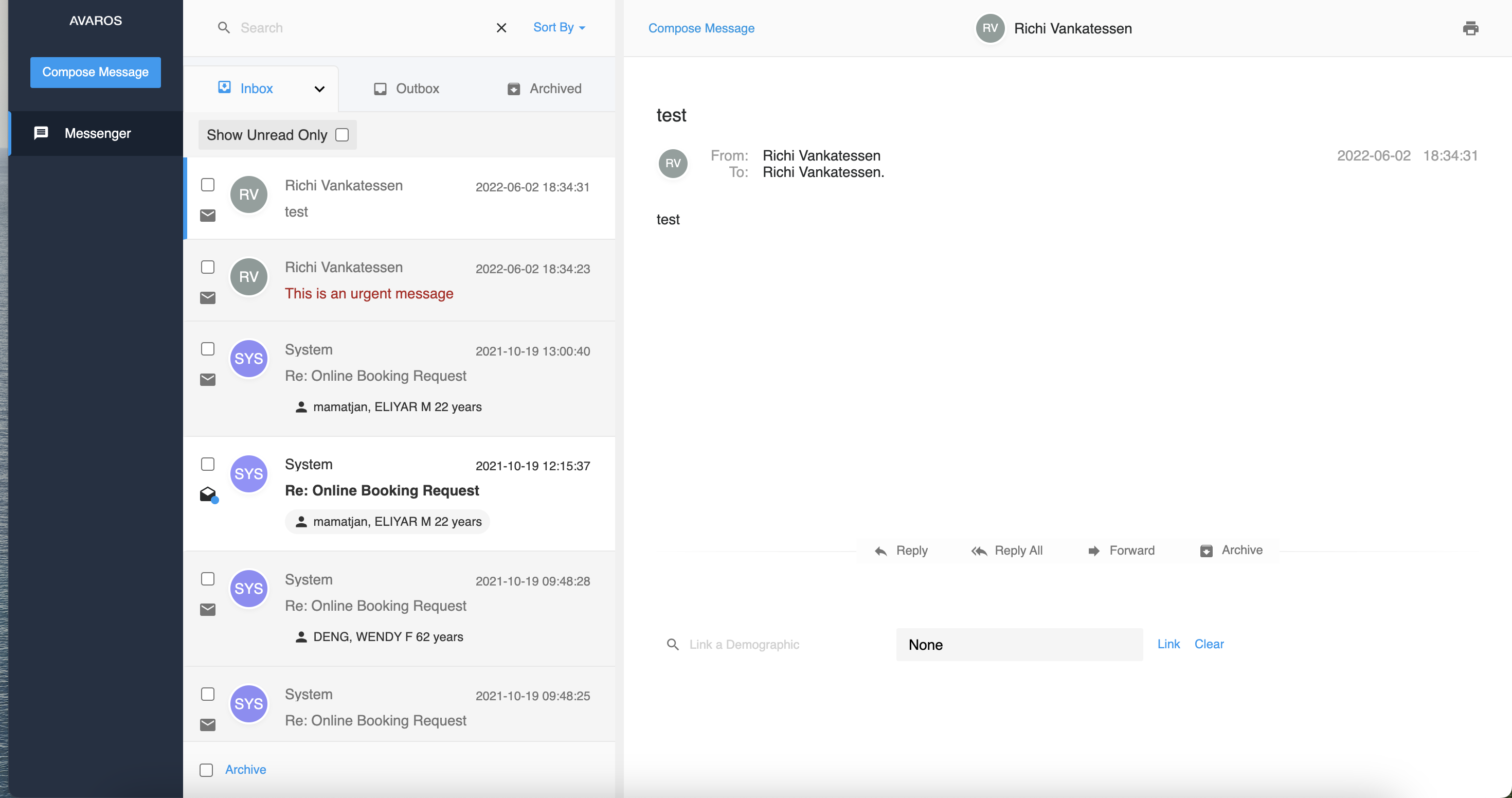 To see a message, simply click on it to view it in the preview pane. You can act on a message by:
Replying to the sender;
Replying to all;
Forwarding the message;
Archiving it;
💡 If the message concerns a certain patient, you can also link the message to a Demographic, by searching for the Demographic in the list and clicking 'Link'.💡
Related Articles
Create, Update, Move or Delete an Appointment
Did we miss something? Not to worry! Just email our support team at support@avaros.ca✌️