To create a new eForm, begin by going to the 'Administration' tab from your Schedule Dashboard → select 'Forms/eForms' → select 'Manage eForms' → click on 'Build eForm'.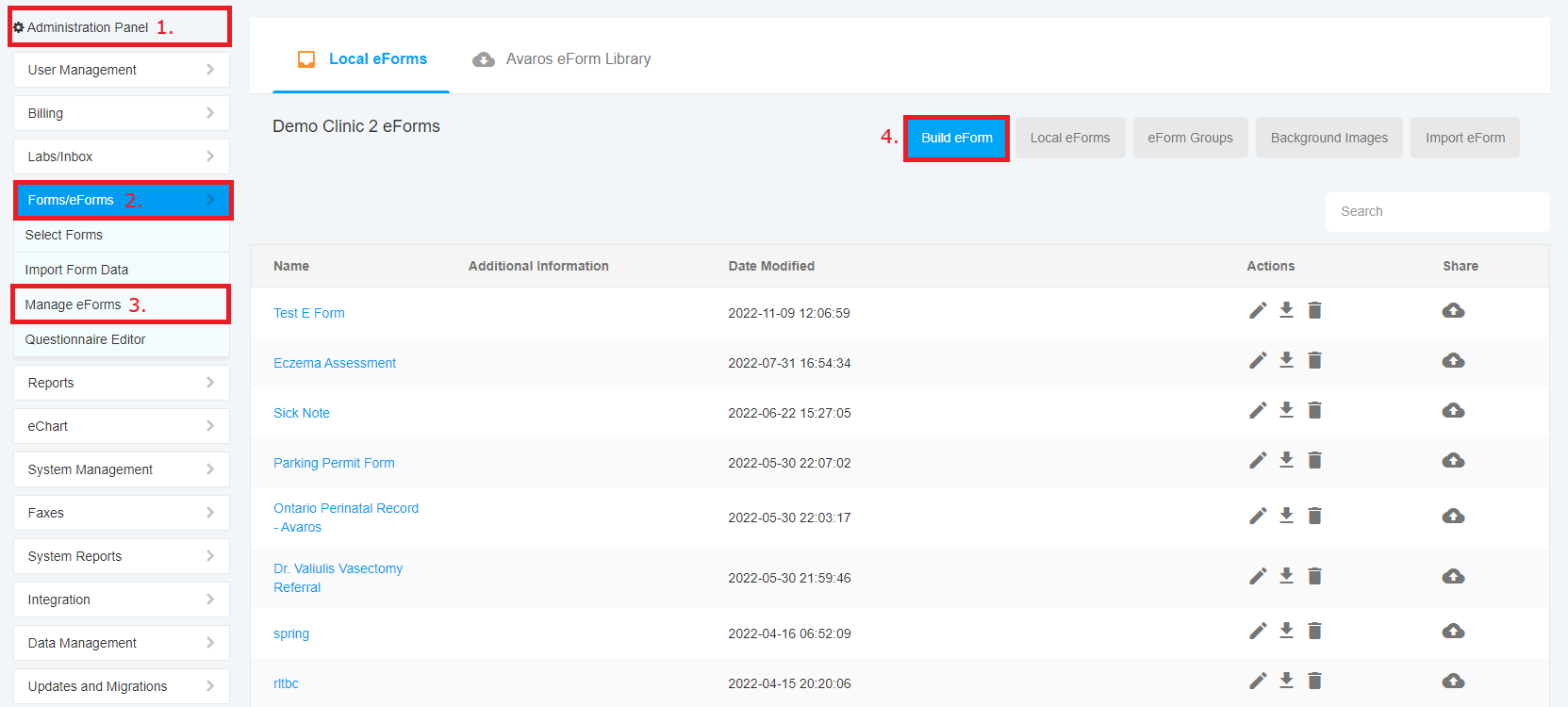 From here, give the eForm a name, and click 'NEXT'. This will open up a new editing window where the eForm can be generated.
Uploading a Background
Start by downloading your background of interest. Upload this background to the eForm Generator by either clicking anywhere on the empty page to browse and select from your computer files or simply drag and drop a background onto the page. The background can be either a PDF or a picture file (png, Jpeg).
💡 The eForm Generator automatically detects text fields. Simply click 'Add Fields' to have them inserted into your eForm.💡
Add Text Fields to Your eForm
Once your background is set, you can start to add text boxes to all the fields requiring them. To do this, click on the 'A' icon, then move to the appropriate area of your form and click again to place the text field. Press esc on your keyboard to exit the text fields selector tool.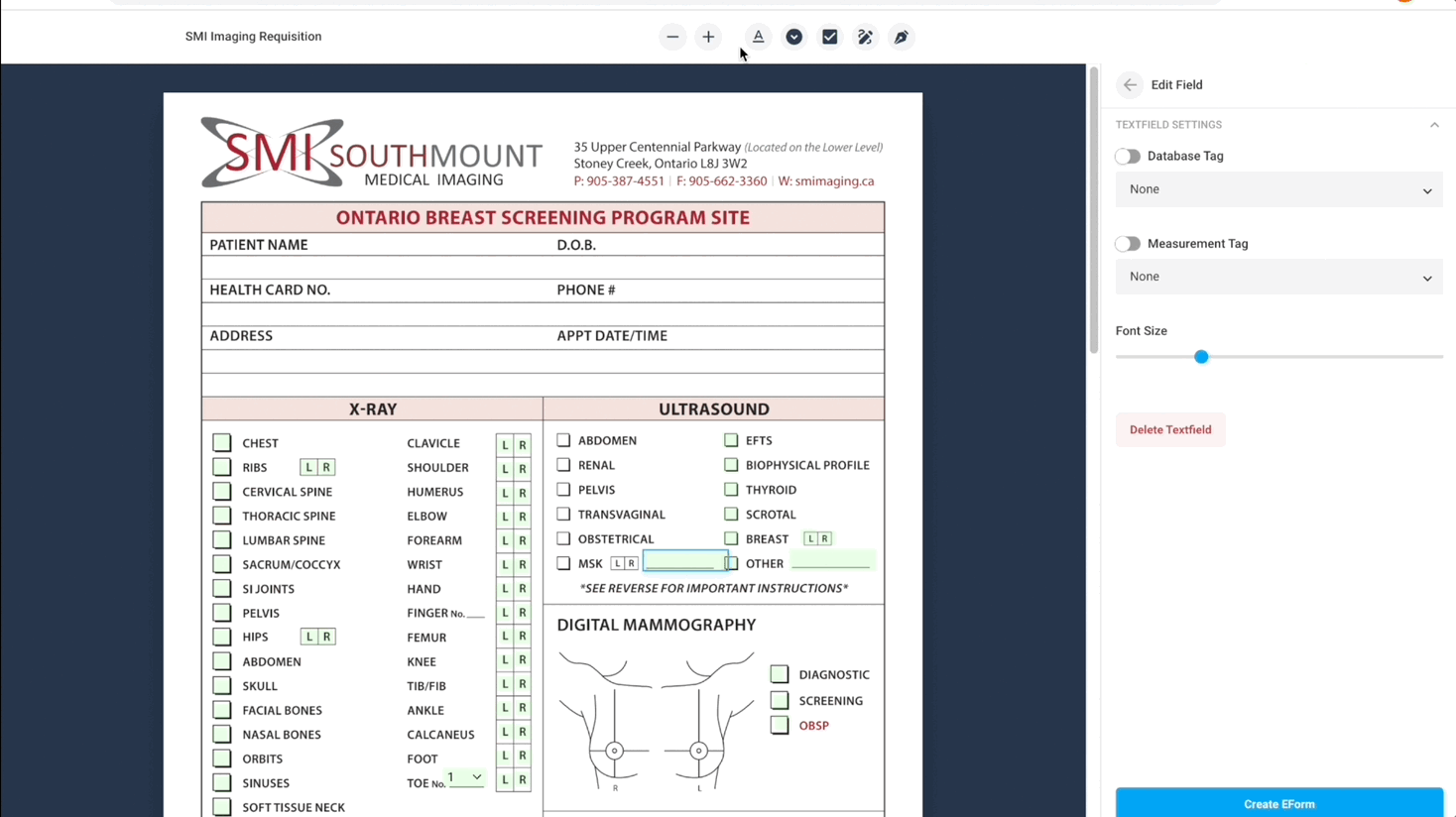 💡 You can add database tags to your text fields by selecting the text field and searching for a key word in the 'Database Tag' search bar. There are tons to choose from! If no tag is added, then the text field will be blank and fillable when completing the eForm.💡

💡 By adding a database tag to a text field, the text field will automatically populate with the tagged information when your load the eForm for a patient.💡
Adding Other Elements to Your eForm
Some other elements can be added to your eForm such as:
Checkboxes

Drop down list
Drawing field

Signature pad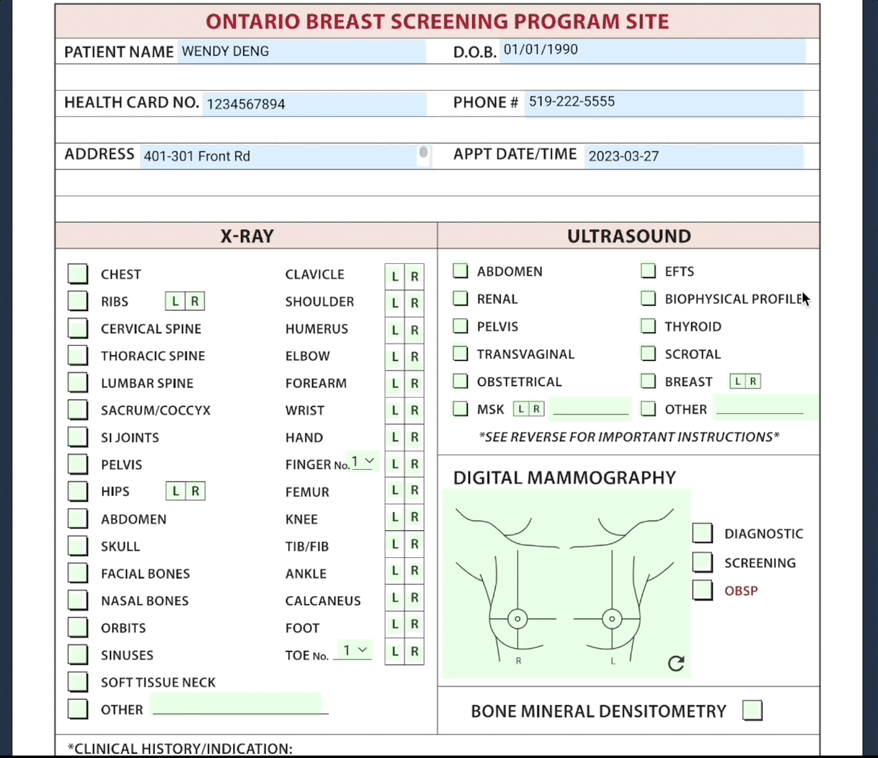 💡 An eSignature must first be added by the provider to be used when eSigning in Avaros. Click Here to learn how to add an eSignature.💡
You can add any of these to your eForm by simply selecting the tool and stamping it in. Press esc on your keyboard to exit the tool.
Set a Default Fax Number
You can set a default fax number for an eForm so the number auto-populates when sending it. Simply input the number under the 'Default Fax Number' section to the right of the eForm when building or editing it in the eForm generator.

Adding Existing eForms to Your Library
There are many existing eForms available to providers in Avaros. To check them out go to the 'Administration' tab from your Schedule Dashboard → select 'Forms/eForms' → select 'Manage eForms' → 'Avaros eForm LIbrary'.
To add eForms from the Avaros Library to your clinic's eForms, select the check box beside the eForm you would like to download → scroll to the bottom of the display and select 'Download into EMR'.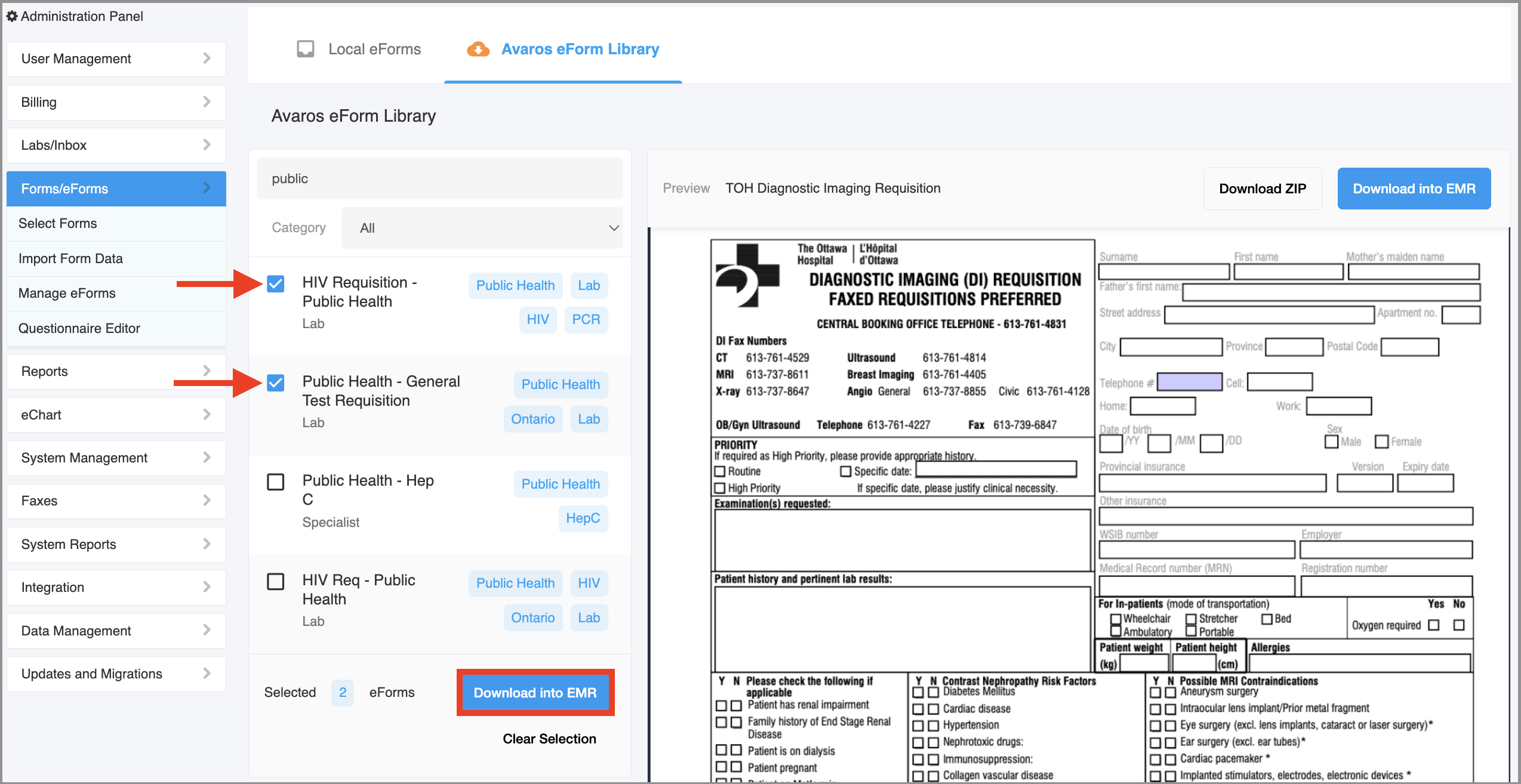 Edit Existing eForms
You can edit existing eForms by going to 'Administration' → 'Forms/eForms' → 'Manage eForms' → Select the name of the eForm you would like to edit. This will open up the editing window where you can make any changes. Select 'Update eForm' when finished to save.
Related Articles
Did we miss something? Not to worry! Just email our support team at support@avaros.ca✌️