In this section, we'll cover how to import patient records that you've received from another clinic.
Avaros complies with the EMR 5.0 specifications on patient records and can accept patient records from any other EMR system that are formatted according to that standard. Generally, a sending clinic will send you an encrypted folder with the patient records you will be importing. To import the records into your system you will need to:
1. Decrypt the Folder
Generally how you go about decrypting the folder depends on how it was encrypted. The sender should have provided you with a decryption password and information about how the folder can be decrypted. If the folder was encrypted using, an archive (or zip) utility, you can simply use your preferred archive utility to decrypt it. We recommend 7-zip, which you can download here.
Using 7-zip, just right-click on the encrypted patient folder, and then select 'Extract Here'.
You should then be prompted with for a decryption password. Enter the decryption password sent to you by the sending clinic.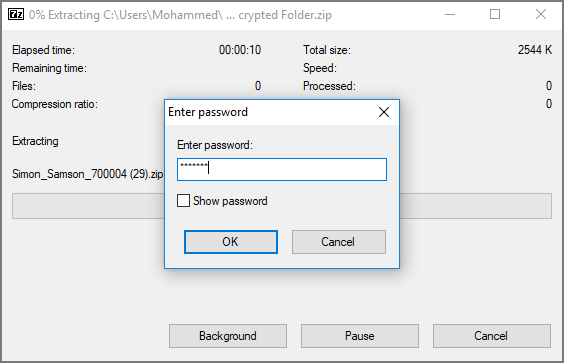 After clicking 'OK' you should now see a zipped folder in the format 'Physician First Name_Physician Last Name_Physician CPSO.zip.' This is the folder you'll be importing in step 2, below.
2. Importing Decrypted folder to Avaros
After decrypting the patient records folder, you can navigate to 'Administration' → 'Data Management' → 'Import New Demographic' in your Avaros account.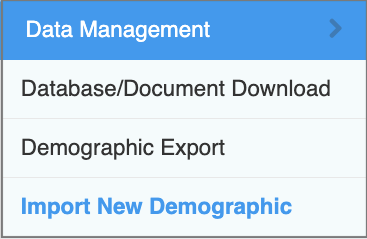 Click on the 'Choose file' button to select your decrypted patient records file. To ensure providers without OHIP numbers that are linked to the patient records you are importing are not duplicated in your system, select 'Match providers in database by first and last name'. Then click 'Import'.

After all of the patient records have been imported, you will be presented with any "Warnings" regarding missing fields that might be of interest, and an Import Event Log summarizing how many patients were imported and the number of Elements in each major category (e.g. Family History, Risk Factors, Social History, etc) that were imported for each patient.
Handling Errors
If any of the patient records sent to you were incorrectly formatted, you might receive an error after initiating the import. If that occurs, you will be shown the following error screen with a description of the error. Copy the error text and submit it in a support ticket request, and our agents would be happy to help you resolve the error.

Related Articles
Navigating the Schedule Dashboard
Did we miss something? Not to worry! Just email our support team at support@avaros.ca✌️